With over 80 years of combined design and manufacturing service, Abrisa Technologies provides custom fabricated glass and thin film coated optical components for a broad array of applications. Our precision thin film coating solutions on fabricated glass, wafers, filter glass and other materials provide solutions that not only meet optical performance needs but include considerations for "fitness of use" and economies of scale. Coated solutions from 200nm in the UV to 20 Microns in the far infrared.

- Anti-Reflective & Sunlight readable - Photopic & Oleophobic AR for Displays, Narrowband V-Coat for Lasers & Scanners, Broadband UV, VIS, NIR, SWIR AR for Imaging, Wide angle o-52 degreee AR for LiDAR and Sensors
- Beam Splitter & Partial Transmitters - Standard, Polarizing, Non-Polarizing & Hybrid, Partial Transmitters for Security/Hidden Display, Neutral Density & Dark Mirrors
- Bio/Chemical Compatible & Protective - Autoclaveable for Medical & Dental, Selective & Absorptive for Bio/Chemical Sensing, Chemically Compatible for Bonding or Processing, UV Transmissive for curing & fluorescence
- Defense & IR Control - Hot & Cold Mirror Filters, Infrared IR Defense - Covert, Blackeye, Covert, Semi-Covert & SWP
- Mirror, Metallic &Bus Bar - Gold, Silver, Aluminum, Enhanced Aluminum, All Dielectric, Laser Select & Broadband, Bus Bars - CrNiAu, Ag Expoxy, Ag Frit
- Transparent Conductive - Heater & Anti-fog, EMI Shielding, LC Electro-Optic Switching & Filtering
- UV Solar & Heat Management - UV/IR Blocking, Hot & Cold Mirrors, Blacklite UV Transmitting
- Wavelength Selective & Color - Long Wave & Short Wave Pass, Bandpass & Notch, Dichroics, RGB, CYM, Color Correction

Abrisa Technologies provides precision custom machined optical components from prototype to high volume and OEM production on thin and ultra-thin glass as well as more standard thixknesses. We can apply a variety of precision processes, individually or in combination, to any glass substrate. 90% of Glass Fabrication requirements are unique, consequently when you require a specific transmission, size, edge, polish, or cleanliness standard or more for your product, turn to Abrisa Technologies to produce your glass fabrication components. Soda Lime, borosilicates, aluminiosilicates, alkali free, strengthened glass, ceramics and more.
Product Showcase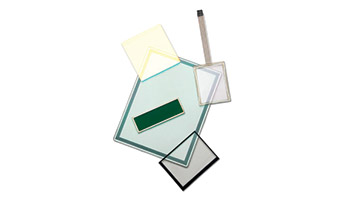 ITO & IMITO coatings to patterned optics, AR & AG glass we deliver coatings to your detailed specifications. read more