4012 Preston Rd
Suite 200
Plano, TX 75039
United States
CATEGORIES & HEADINGSdetails >>
Fiber Optics / Accessories //
Since 1947 for over 70 years, Sanwa Denki Kogyo Co., Ltd., headquartered in Tokyo, Japan has been dedicated to develop, manufacture and market wide range of innovative connectivity solutions to meet the expectations of our customers.

The rapid progress in the broadband and mobile technologies continues to advance the optical communications industry, and how the world communicates at a staggering rate towards Next Generation Networks (FTTx and 5G). With superior engineering, product designs, quality manufacturing and reliable services, our talented team prides in providing engineering excellence that continues to propel the functionality and simplified operation with improved productivity in electrical, telecommunication, data communication and in a variety of technology applications.

Sanwa's 70-year success is a derivative of mutual successes achieved through collaborations with our customers, and partners supporting the company's growth to become one of the leading Japanese electrical and optical connector suppliers. With manufacturing facilities and operations located across the United States, Japan and Southeast Asia, Sanwa is driven to provide our expertise and support all around the globe.

Product Showcase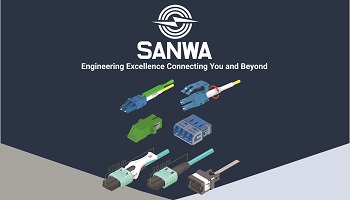 With the ever evolving digital world, the demands of high density data centers have been growing rapidly to help everyone stay connected.
The new MPO HD (High Density) from Sanwa is the shortest connector assembly in the market with push-pull tab providing more space between the rack and the cabinet doors while allowing for easier extraction of the connector from highly populated application.
Sanwa's MPO simplified receptacle reduces parts, cost, and packaging inside panels and equipment, enabling more flexibility in cabinet and system designs. read more